I don't know why I love this recipe so much (aside from the fact that it's simple and healthy). Perhaps because it just plain tastes good; that and banana bread is imprinted as a positive memory from childhood. Even a day-old and room-temperature it's fantastic. It's one of the few breads that stands on its own merit, but we all know a slathering of peanut or cashew butter knocks it out of the park.
Unlike those antiquated recipes from the 70's, this one is fully modern and ready to service your taste buds and your body. The former staple known as white flour has been replaced by my hero, almond flour (or meal), imbuing this recipe with Paleo flair. And since super-ripe bananas are plenty sweet, there's no need for additional sugar. If you're in the process of adjusting to less sugar, this may not taste sweet enough to you. Give it time, your palate will adjust. My prediction is, this will become one of your favorite sweet treats. And one your body won't have to recover from. What a deal!
PS – How good is this recipe? Can you see my dog Sophia in this photo, trailing me around the house as I conduct my photo shoot?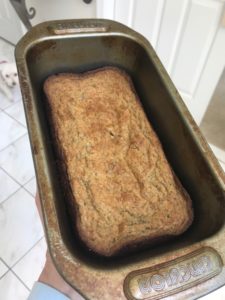 Servings

Prep Time

6

people

15

minutes
Servings

Prep Time

6

people

15

minutes
Servings

Prep Time

6

people

15

minutes
Servings

Prep Time

6

people

15

minutes
3

bananas

very ripe

3

eggs

room temperature

1

cup

unsweetened almond milk

room temperature

1

tablespoon

vanilla

1/8

teaspoon

Himalayan salt

1/8

teaspoon

xanthan gum

1

teaspoon

baking soda

2

cups

almond flour or meal

1

stick

unsalted butter

room temperature
Preheat oven to 360 (the denseness of an almond flour-based batter requires higher heat).

In a large mixing bowl, combine bananas and eggs. Mash with a fork or potato masher until the bananas are a rough paste. Add milk and stir together.

Add dry ingredients and either whisk with a very sturdy wire whisk or blend with an electric beater on medium speed until smooth. Add softened butter and blend thoroughly.

Spray two large loaf pan with non-stick cooking spray. Scrape batter into pans; they should each be about half full. Bake for 35 minutes and check center of the bread. If soft to the touch, bake another 10 minutes.

When center feels cooked enough (you don't want it to be dry and cracked), turn oven off and let loaves sit in a cooling oven for 10 minutes. Remove and serve warm if desired. One loaf may be frozen for up to a month.