December is officially here, and it's time to ask yourself an important question:  Are you ready for the holidays?  I mean in the sense of having healthy desserts and other foods at the ready.  It's party-season and whether you're giving one or attending a few bash's,  it's a fantastic idea to be prepared.
Back in the old days of clean eating (a decade ago and further back), whether for allergy-related reasons or just better health, we clean and specific eaters had to show up to events with our own travel-trunk full of goodies. Nowadays it's considerably more easy. Veganism is more than a passing fancy, many people must or choose to eat gluten-free, and dairy has finally been outed as a universal irritant, as well as being pretty packed with empty calories. Yes, I said it. Thanks to amoral food lobbyists and a greedy industry, cheese was billed as the be-all, end-all best source of protein on the planet. I can hardly write that with a straight face. Cheese certainly is a source of protein, but for all the negatives like gas, bloating, weight-gain, irritated skin, and diarrhea (and that's a short-list of complaints I get from clients) it's not exactly a viable bang for the buck.
Don't get me wrong, I enjoy sheep and goat cheese, because they're of an enzyme structure that differs from cow's milk. But I enjoy them occasionally, and as an accent, much like Mediterranean cultures do. The bulk of my daily protein comes from eggs, nuts, seafood, and vegan protein powder. I'm just not overly enthused about beef, chicken, and pork, though I do eat them occasionally. Protein can also be found in vegetables (a fact the food lobbyists don't really want you to know) and whole grains like quinoa. But back to the holiday season…I can't live like a hermit. Mingling and being out there this time of year is not only half the fun, it's an IMPERATIVE move to ward off cabin fever. Roasted nuts (I buy them raw and roast myself and add oils and herbs of choice), deviled eggs, hummus with rice crackers, and a tray of Potatoes Lyonaisse make excellent party foods. And then there are the DESSERTS – the downfall for many, I know.
The month of December was once frought with conflict for me: do I go on an extended bender and eat whatever the heck I want for four weeks and then reverse the tide in January, or do I indulge moderately so January doesn't bring an avalanche of unwanted pounds and regrets. I highly recommend choosing the latter option. Sliding too far back is both discouraging and a lot more work to recoup from. However, this is absolutely NOT the month to be minimal and deprive yourself. There are middle-of-the-road options, like this cheesecake. It's creamy, delicious, fairly nutritious and stunningly low on the glycemic index.
I prefer making cheesecakes without crust in order to save carbs. If it's not a cheesecake without a crust, feel free to borrow from my other cheesecake recipe. This time, I put the bulk of the recipe in a vintage Tupperware gelatin mold and the rest into single-serving sized Tupperware – PERFECT for toting to parties.
Play with this one…use other varieties of yogurt or fruit toppings if you wish, spoon it into parfait dishes if you're having a dinner party. Most of the time, non-clean eaters end up really liking my gluten-free and dairy-free options, so you never know…this could be a hit at the next party.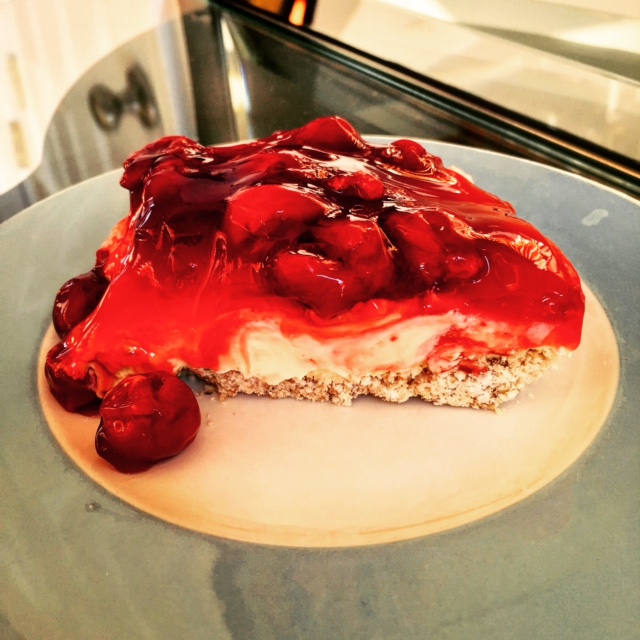 A delicious, cow-dairy-free holiday dessert
Servings

Prep Time

6-8

people

15

minutes
Cook Time

Passive Time

0

2-4

hours
Servings

Prep Time

6-8

people

15

minutes

Cook Time

Passive Time

0

2-4

hours
A delicious, cow-dairy-free holiday dessert
Servings

Prep Time

6-8

people

15

minutes
Cook Time

Passive Time

0

2-4

hours
Servings

Prep Time

6-8

people

15

minutes

Cook Time

Passive Time

0

2-4

hours
1

8-ounce

log of chevre

room temperature

1

32-ounce container

non-dairy yogurt

such as coconut or sheep's milk

1

box

sugar-free lemon gelatin mix

1

box

sugar-free vanilla pudding mix

1

can

sugar-free cherry pie filling
Blend on medium speed using a hand-held electric beater.

Place filling in a pie plate, square brownie pan, or a Tupperware-type container with a lid. Spread evenly. Pour cherries over filling and spread evenly. Chill at least a few hours or overnight.