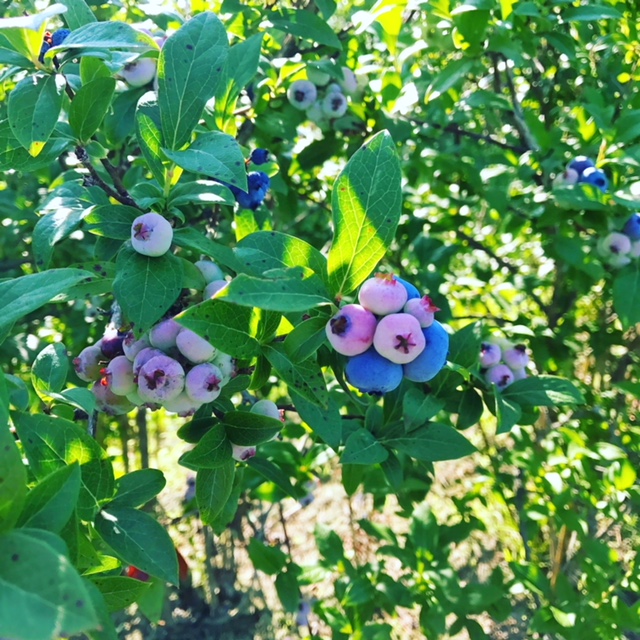 Anyone who has ever done it knows that picking blueberries in a sunny field on a beautiful mid-summer's afternoon is good for the soul. But since those days only occur during a short window at a very specific time of the year, it's best to embrace the opportunity with both arms and squeeze hard, so to speak. There's something infinitely satisfying about A) being immersed in nature; B) harvesting your own food; and C) embarking on an activity that's so absorbing, your focus on it becomes a meditation. I'm not the most disciplined meditator, as much as a fan as I am of its benefits. Sitting still for 20 minutes is a chore for me, but picking blueberries is NOT.
This may seem like torture to some of you, as yet another Nor'Easter bears down on some of the country. Spring isn't exactly rolling out the welcome mat for us at this point, so summer seems especially distant. Think of this post as more of a 'something to look forward to' seed to be planted now and enjoyed later.
Picking blueberries has become a cherished summer ritual, not the least of which has to do with the beautiful health benefits they possess. I love eating fresh blueberries on their own, in smoothies, coconut yogurt, and in baking.  When fresh blueberries are no where to be found, I rely on frozen!  They don't have the plumpness and physical beauty of their fresh counterparts, but they are perfect in smoothies and baking. Case in point: muffins! One of my all-time favorite indulgences.
One of the easiest ways to whip a batch up is with a gluten-free box mix. Simply dump in desired amount of berries to the mix and you have a masterpiece on your hands.  Or, if you're looking for a from-scratch recipe, here's my favorite Paleo version:
Paleo Blueberry Muffins
Ingredients:
2 ¼ cups almond flour (or flour of choice)
½ cup unsweetened shredded coconut
½ teaspoon salt
1 teaspoon baking soda
1/3 cup coconut palm sugar
4 eggs, room temperature
¼ cup coconut oil, melted or softened to room temperature
1 cup coconut milk (full-fat from the can)
1 tablespoon vanilla
2-3 cups fresh or frozen berries (thawed if using frozen)
Instructions:
Preheat oven to 375. Place all dry ingredients in a mixing bowl and sift-blend with wire whisk. In a food processor, add eggs, vanilla and coconut milk. Pulse mixture until smooth. Pour liquid from food processor into the mixing bowl. Add coconut oil and blend thoroughly with wire whisk or wooden spoon. Add blueberries and mix thoroughly. It's OK if some burst and 'bleed.' Spray two muffin tins (12 each) with non-stick cooking spray, or use paper muffin cups in the tins. Pour batter into each cup, filling about 3/4 full.  Bake for 25-30 minutes on the oven's center rack. Turn oven off and let sit for 10 minutes in cooling oven. Remove from oven and serve while still warm. Muffins may be refrigerated for up to a week, and they also freeze well.