God I love carbs! Yes, I just stated the obvious because…Who doesn't? my love of starchy grains and root vegetables is the main reason I could never, back in my dieting days, do Keto or Atkins for more than a few weeks.
Not only do carbs bring me pleasure, but brown rice, oats, and potatoes also offer a cornucopia of nutrients and fiber, whether their incarnation on my table is creamy, fluffy, or crispy. That's because they're carbs of the complex variety, in a different league from white carbs like pasta and white rice.
Even so, complex carbs were something I regulated. It's just the law of my middle-aged metabolism. They don't process in my body the way broccoli does (if only).
But enter march 2020, the coronavirus makes its way around the entire circumference of the globe and we're all told to stay home. Not such a horrible thing if you're a homebody to begin with. But if you're a mover and a doer and kind of attached to your job and its attendant income, this coupled with the mortal threat to one's health can add up to a precarious and sticky situation where food, whiling away free time, and wellness are concerned.
That being said, let me make one thing crystal clear: this is NOT the time to rectify the stress-eating with a strict and horrendously cruel diet. That's a set-up under normal circumstances. Under Corona circumstances, you'd simply be asking for a freefall into the abyss of dieters who have shamefully tumbled off the wagon.
Shame is the last thing we're striving for here, and in a word, if you want to acknowledge any kind of goal or intention during these tumultuous times, may I suggest the concept of balance. It's broad enough to be non-threatening and definite enough to give you something to shoot for.
I often like to think of balance in terms of things I would like not to do, as in: inhale a bag of fritos, or make donuts part of my repertoire, or order a pizza the size of a Monopoly board with a side of buttery garlic knots. It's so much easier to clarify what I want when I'm clear on what I don't want. Not that all of the above doesn't have its gastronomic appeal, but I know, through much trial and error, that my body will not appreciate the ensuing after effects of poor digestion, bloating, and extreme thirst. So what's a carb lover to do??
Enter quinoa. The undisputed champion of complex carbs. More expensive than rice or potatoes, it's an ancient grain hailing from the Andes mountains and has significantly more vitamins, fiber, and protein than brown rice. Inspite of this impressive resume, I can feel your interest waning and I get it. I even ADMIT that quinoa on its own is a yawn. But it's a little known fact that under the right alchemization, it can be YUMMY!
In my cookbooks and on my archives here, there are recipes for Chocolate Quinoa Cake, Quinoa Muffins, even quinoa pancakes. Recently, though, I was craving a savory treat. Something akin to polenta, but with a healthier bent.
As it usually does, quinoa pinch hit for the simple carb BEAUTIFULLY! For this particular batch, I made it thin because I wanted a base for Eggs Benedicts, but you can also spread the better into an 8×10 pan if you prefer chunky squares of polenta.  I often enhance the flavor of quinoa polenta with pecorino cheese, but fresh chopped rosemary is also wonderful.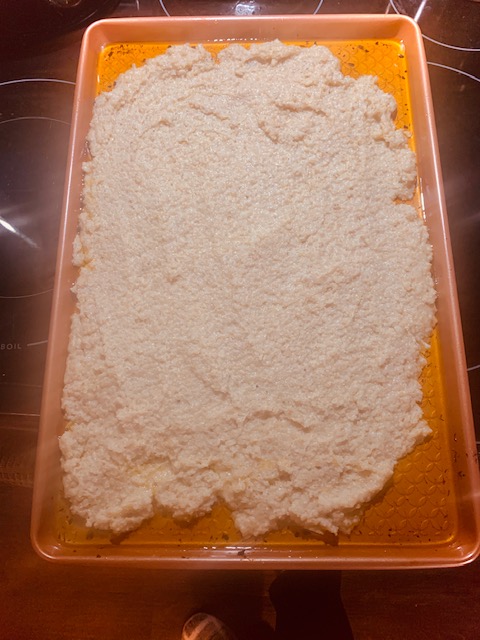 Hope you give it a shot and enjoy the nutritious ride! Your body is already thanking you in advance!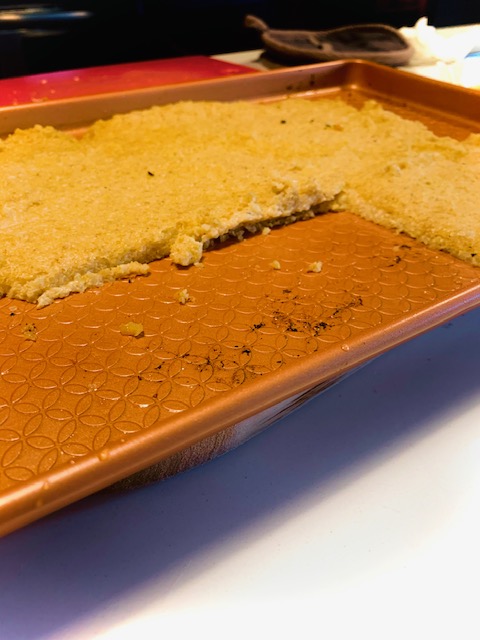 Quinoa Polenta
About 6 servings
Ingredients:
3 cups cooked polenta
2 eggs
2 tablespoons light oil
½ cup grated pecorino cheese
1 teaspoon black pepper
Instructions:
Preheat oven to 350
Place all ingredients in a food processor and blend until smooth. The batter should be very thick, but spreadable. Spray an 8×10 pan with cooking spray (or 9×13 if you want the polenta thin). Bake for 25 minutes and check to see if it's firm in the middle. When firm, turn oven off and leave in a cooling oven for another 10 minutes to set. Serve warm.