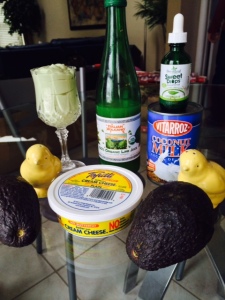 Sorry it's been so long since my last post. It's a long story and I'll spare you the details, but my unplanned exile from recipe developing ended yesterday when I concocted this amazing dessert. The idea was lifted from a women's magazine I was leafing through at the doctor's office (part of the reason for the exile). Instantly, I knew I could make a clean version. I did and the result is below but here's the wrinkle: the recipe in the magazine was for Avocado Key Lime Cheesecake. This turned out to be more of a mousse. The consistency for slicing a piece of cheesecake is off but no matter – I usually skip the crust anyway so I was happy to pour this whipped, slightly tart-slightly sweet divinity into dessert cups.
How good is it? Chef Bill detests avocados and Stevia and he liked it. By all means, if you're anti-stevia, switch to the sweetener of your choice. All I ask is that you don't overdo it because the whole point of the dessert is for the lime element to shine. My brand of choice for lime juice is pictured below. It's quite simply the best. I also like Nellie & Joe's Key Lime Juice.
Give it a shot. It's the perfect dessert to have on hand or bring along to a Christmas party, which is what I'll be doing tonight. The recipe development continues with this one and I promise to report back soon with an actual clean Key Lime Cheesecake recipe. Until then, Buon Natale and Bon Appetit!
Clean Key Lime Mousse
2 ripe avocados, pitted and skinned
1 8-oz. container of vegan cream cheese at room temperature
1 can of coconut milk
25 drops of Stevia or 1/3 cup of raw sugar or coconut palm nectar
1/3 cup lime juice
1 teaspoon vanilla
Directions:
Blend all ingredients in a food processor or VitaMix until completely smooth. Spoon into dessert cups. May be eaten immediately or chilled. Optional: top with Coconut Whipped Cream (recipe in my cookbook-memoir "Clean Comfort")