It amazes a food-lover like myself that there are some people out there who simply are indifferent about the first meal of the day. In some cases, they're rushed by a jam-packed schedule that includes getting kids ready for school followed by a dash to the office, gym, volunteer committee meeting, etc.
Even those with home offices sometimes neglect the No. 1 meal of the day. I refer to it that way because what you do (or don't do) with breakfast sets the tone for the rest of your day. As someone with emotional eating tendencies, I do everything I can to nourish my body with nutritious food so I'm not left vulnerable: hungry with inadequate resources to rationally solve the problem. Drive-thru's are no one's friend and I suggest you avoid them at all costs. The fare isn't the best nutritionally, it's fat and sodium-heavy and expensive for what you get in return.
As cliché as it may sound, breakfast truly is the first brick in the foundation of a healthy day. And if you're pressed for time, there are SOLUTIONS for quickie meals that are clean and can be made cubicle-friendly. There's no magic, though. Healthy eating requires planning, but it's the best health insurance in the world and you are WORTH it!
How you define your breakfast is up to your personal preferences and nutritional needs. If you're going to be sitting most of the day your needs will differ from someone who'll be active all or part of the day. Morning is the best time to eat carbs because you'll have 10+ hours to work them of.
My day always begins with steeped lemon water (a perfect wake-up call for the liver. The recipe is in Clean Comfort); an almond milk latte; and a bit of fruit on an empty stomach (no previous solid food). It's a nice way to scrub out the innards, in a gentle way. About a half-hour of so later, it's on to proteins, healthy carbs, healthy fats, or a combination of all three.
There's no way around it: healthy eating involves prep work. So if you don't have a personal chef or someone else at your disposal, better roll up your sleeves and get to work the night before if you need to rush out the door in the morning. Little things like steeping lemon water at night so it'll be ready first thing in the morning, getting coffee measured and ready to go, and picking out your cereal ahead of time go a long way in saving time and making for a more peaceful morning.
Eggs are my favorite morning food. They sustain me for hours and take very little time to prepare. And it's hard to get bored with them with all they different ways they can be prepared: soft-boiled, poached, fried, scrambled….and then there are the omelets stuffed with goat or sheep cheese, vegetables, olive tapenade…the list is endless!
If you're a cold cereal fan, give it a boost with a scoop of protein powder added to unsweetened almond milk in the blender. It adds a delicious sweetness to unsweetened cereal and is much more sustaining than plain old milk and cereal. Up the nutritional ante by sprinkling cold cereal with ground chia seeds, ground flax seeds, hemp hearts, or chopped figs.
Here's one of my favorite cold cereal recipes:
https://www.staceymorris.com/a-captain-crunch-craving-how-i-handle-it-now/cereal/
If you're a hot cereal fan, either make the cereal the night before, or let all ingredients soak in a pan in almond milk for a much quicker cooking time the next morning.
Hot Cereal:
https://www.staceymorris.com/tag/cereal/
https://www.staceymorris.com/these-are-a-few-of-my-favorite-carbs/
And if you're on the road or headed to the office for 8-hour stretches, it's ESSENTIAL to pack protection: nuts, dried fruit, salads, gluten-free desserts baked at home, and little treats like almond milk-based puddings:
https://www.staceymorris.com/tower-power-pudding/
And nothing travels better than homemade protein bars: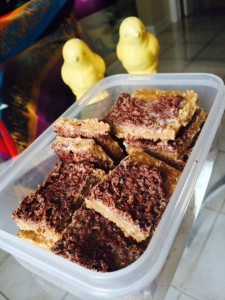 Whatever you choose, don't neglect this meal! It gets your brain and metabolism revved, and is the perfect way to ward off the hunger demons. And trust me, you do NOT want them knocking on the door at 12 noon when you have an empty stomach.