"Never put off until tomorrow what you can do today." – Benjamin Franklin.  
It's one of my favorite and most practiced quotes, and I credit Ben Franklin for helping cultivate a sense of discipline which has taken me far. There are days when I feel the pull of putting off a task until the next day. The majority of the time, it's nothing more than my knee-jerk first response to make things 'easier' on myself. Trust a veteran procrastinator. Putting off what needs to be done has never made my life easier. Not only do I accrue more unwanted borrowed time, my 'to-do' list multiplies in a most unappealing way. But since discipline and rigidity are two entirely different things, let's be clear: Sometimes, back-burnering, prioritizing, and taking a time-out is extremely necessary. Who decides that? YOU do. It all falls under the umbrella of getting to know yourself, listening to your body, and trusting its wisdom without apology.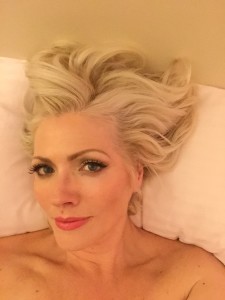 With a way of life that includes clean eating, DDPYOGA and other forms of working out and staying fit, I pride myself on full and vibrant energy reserves that I never possessed back in my binge-eating days. The gift of my lifestyle means I get a lot done in any given day. But on those occasions when I'm undeniably physically tired, achy, mentally drained, or emotionally beleaguered, pressing on in the face of fatigue or the aches of an encroaching cold simply makes no sense. Sometimes, the perpetual act of doing needs to be back-burnered.
If it's not an urgent or time-sensitive task, I postpone, and take my body up on its benevolent invitation to do nothing for a while. Never regretted it. Remember, our bodies are infallibly wise. If yours is telling you to take a breather, DO it. Give yourself permission, and don't seek it from others. Ask for help if needed, then shut the world away (your own version of it) and recharge.
Wishing you all a Blessed Solstice, Happy Hanukkah, Merry Christmas, Jubilant Kwanzaa, and a Happy, Healthy 2017!