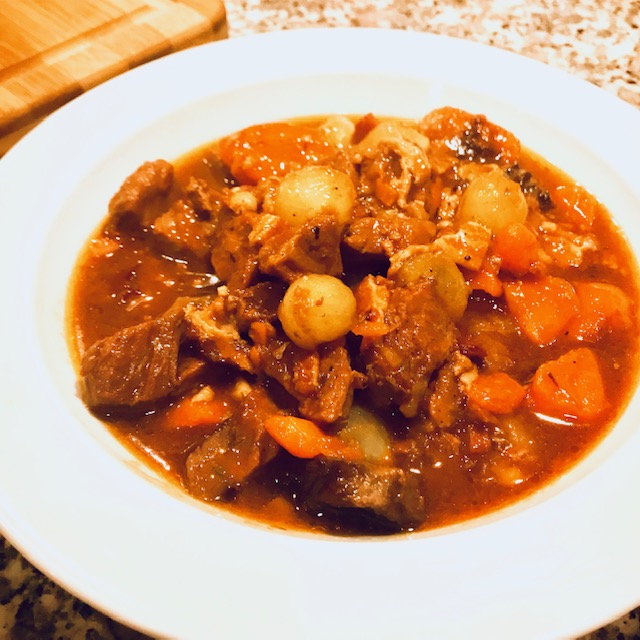 Something happens when I hear the local meteorologist warn the masses of an impending wintery mix. Immediately, the announcement elicits a response in my brain synapses to head to the stove and cook something warm and comforting, preferably within the indestructible confines of a 20-pound enamel pot.
Most of the time I'll concoct a lentil-based soup or stew, and why not? The varieties of dried beans are many and the pairing possibilities with vegetables, healthy grains, and spices are endless.  And lentils are some of the most fiber-rich and nutrient-dense foods on earth, able to please the vegan and omnivore in equal measure. Free-form invention of soup is my strength. But when I crave the time-honored classic Beef Bourguignon and its to-the-letter preparation protocol, I let Chef Bill take the wheel. Adhering to classic recipe methodology is his strength and he does it with panache.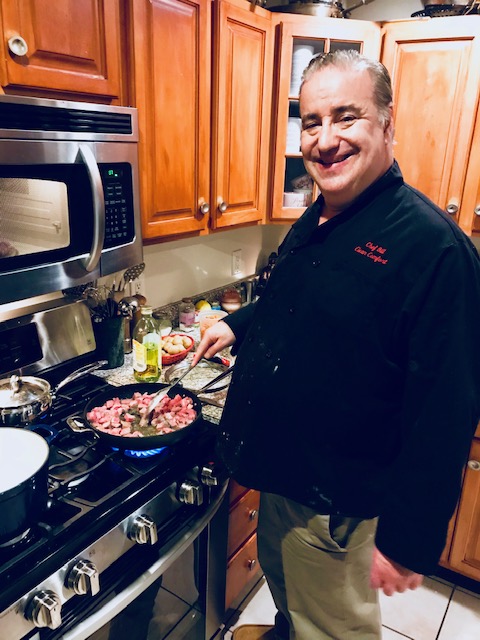 You don't have to be a trained chef to give this satisfying stew, made famous in our country by Julia Child. But you do have to peruse the recipe ahead of time and simply follow the steps accordingly. It's a little more time-consuming than most stew recipes, but so worth the effort. The recipe we used for our most recent bourguignon foray was inspired by Ina Garten, cookbook doyenne of the Barefoot Contessa series and Food Network star who refuses to submit to the network's relay-race cooking obsession. Check out her books and her shows, they're a joy to watch.
Meanwhile, you don't have to wait for a snowstorm to thoroughly enjoy this Beef Bourguignon recipe, but it definitely adds to the ambiance.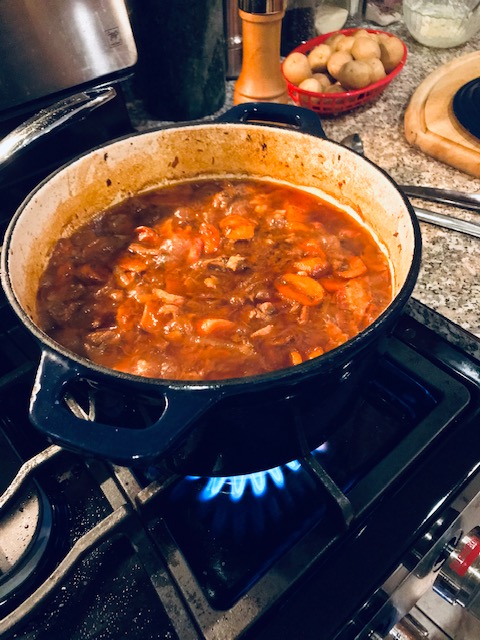 Beef Bourguignon
Serves 6
Ingredients:
1 ½ tablespoons extra virgin olive oil
½ pound high-quality smoked bacon, diced
2 ½ pounds of beef (preferably quality sirloin), cut into 1-inch cubes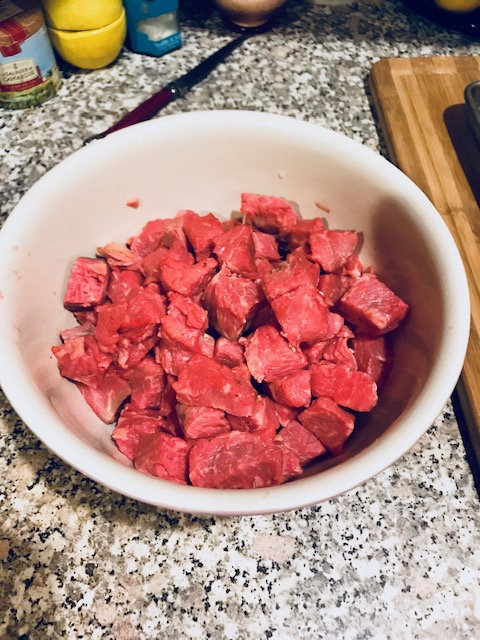 kosher salt
freshly ground pepper
1 pound of carrots , peeled and cut into bite-sized pieces
2 medium yellow onions, cut in half and sliced thinly
2 tablespoons chopped garlic
½ cup cognac or brandy
1 750-ml bottle of dry burgundy
2 cups beef broth
2 tablespoons tomato paste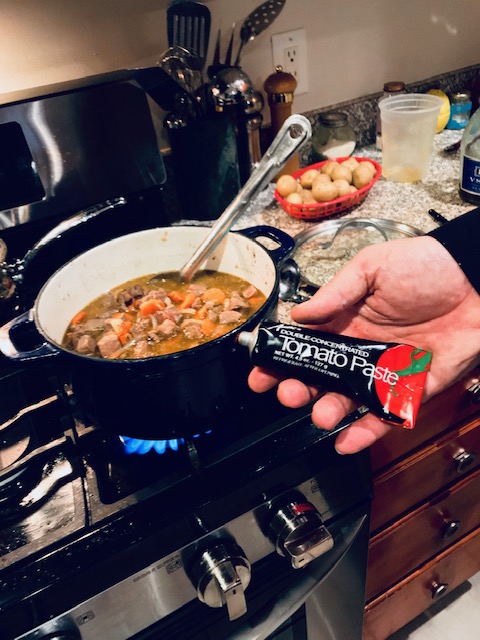 1 tablespoon fresh thyme, chopped
4 tablespoons unsalted butter, room temperature
3 tablespoons all-purpose flour or corn starch
1 pound mushrooms, any variety, sliced thickly
2 tablespoons unsalted butter
1 pound of pearl onions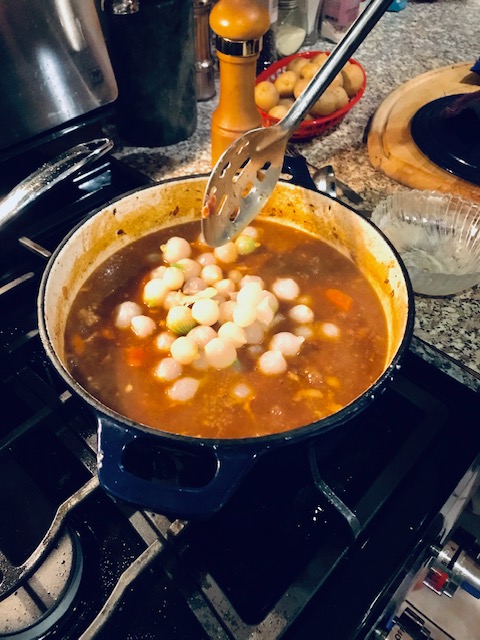 Instructions:
Preheat oven to 250 degrees
In a large enamel dutch oven, heat olive oil and bacon over medium heat for about 10 minutes, until the bacon is slightly browned, not crisp.
Remove with a slotted spoon and transfer bacon to a plate. Salt and pepper the beef cubes and add to the pot (leave bacon grease in). Sear over medium heat in batches if necessary for even cooking until just browned on all sides.  Transfer the beef with a slotted spoon to the plate with the cooked bacon pieces.
Add the carrots and sliced onions to the pot with 1 tablespoon salt and 2 teaspoons of pepper.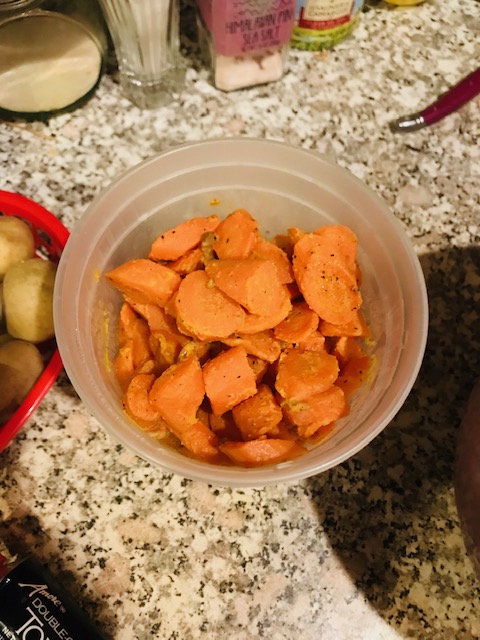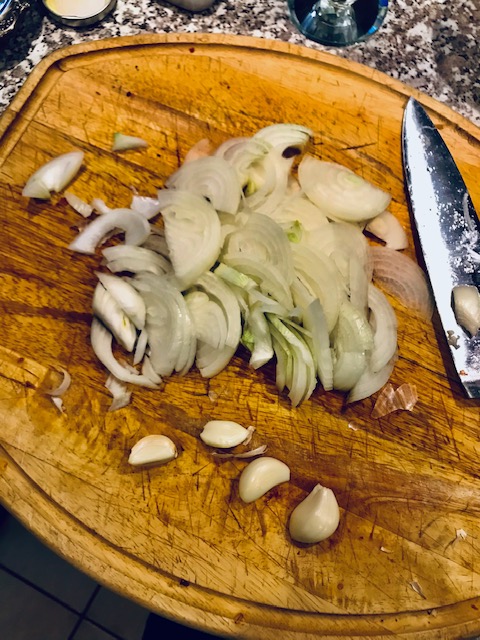 Cook over medium heat for 10-15 minutes, until evenly browned. Add extra olive oil if necessary.  Add garlic and cook for one more minute. Carefully add the cognac, standing back from the stove as it may momentarily ignite. If there is a flame, when it dies down, stir so the alcohol evaporates as it cooks. Add the meat and bacon back to the mixture, and the entire bottle of burgundy, along with the beef broth. Stir in the tomato paste and thyme and bring to a simmer.  Cover with a tight-fitting lid and place in the oven for 1 ¼ hours.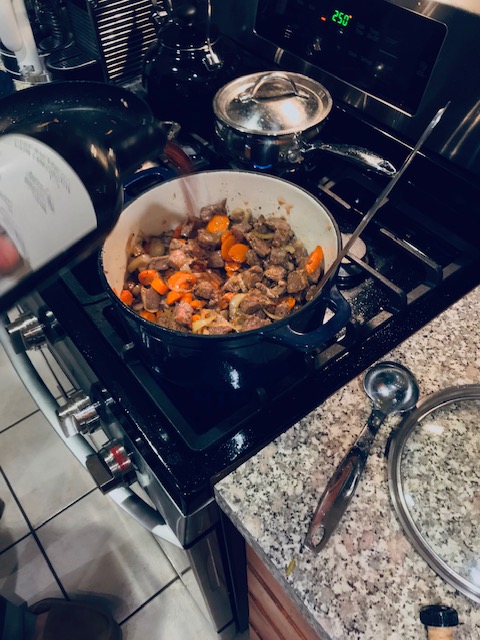 While the stew is braising in the oven, saute the mushrooms in two tablespoons of unsalted butter until just softened and set aside. In a small bowl, mix the four tablespoons of softened butter with the flour with a fork until it's a smooth paste. Set aside.  After the allotted baking time, remove pot oven from the oven. Carefully remove lid and stir in butter/flour mixture with a spoon until blended. Add mushrooms, pearl onions, and thyme. Simmer on stove-top covered for an additional 15 minutes.
This is traditionally served over slices of toasted baguette. Variations can include brown rice, wide noodles, or roasted potatoes.